Indian Geography
Indian Geography is an important topic of all competitive exams in India. Around 5-7 questions can be asked from this section, so such section should not be missed for preparations . So are few important points regarding Indian Geography. Which you should not ignore.We hope it will be helpful for your upcoming Exams - IBPS, SSC, UPSC and all Competitive Exams.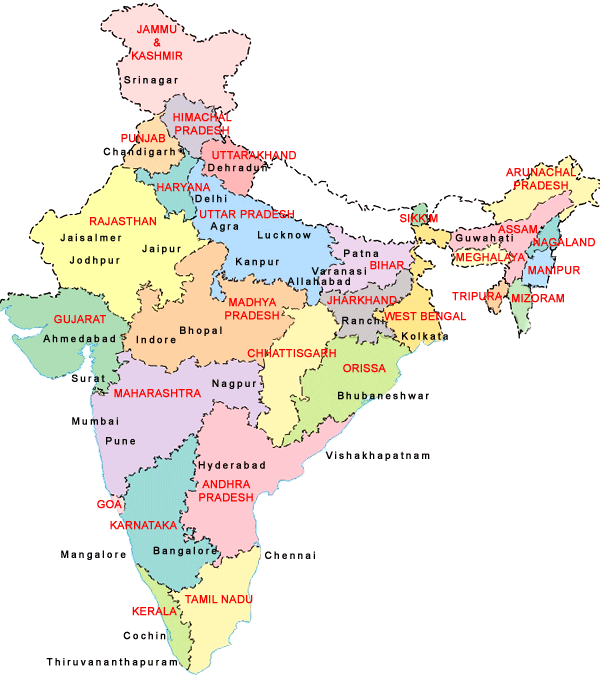 Important points regarding Indian Geography

India is located on the North of the equator.
Hence Indian is in the northern hemisphere.
India is lying between 8º 4'N and 37º 18'N latitude and 68º 7'E and 97º 25'E longitude.
The country is divided into almost equal parts by the Tropic of Cancer (23º 30'N).
India also belongs to eastern hemisphere as it lies to the east of the Prime Meridian.
The 82º 30'E longitudes are taken as the Standard Time Meridian of India.
India is the seventh largest country in the world occupying 2.2 per cent of the world area.
---
POSITION OF STATES

Jammu and Kashmir, Himachal Pradesh, Sikkim and Arunachal Pradesh are in the Himalayan Region. The state of Uttarakhand lies partly in the Himalayas and partly in the northern plains.
Madhya Pradesh, Chhattisgarh, Jharkhand, Maharashtra, Orissa, Andhra Pradesh, Karnataka, Kerala and Tamil Nadu together make the great peninsular plateau.
Arunachal Pradesh, Nagaland, Manipur, Mizoram, Tripural and Meghalaya are the Indian provinces made up of hills in the north - East India.
Gujarat, Maharashtra, Goa, Karnataka, Kerala, Tamil Nadu, Andhra Pradesh, Orissa and West Bengal are states on the coast of India. Among our Union Territories, Daman and Pondicherry boundaries have sea boundaries.
The Indian states on international boundaries (other country/countries within brackets) are : Gujarat (Pakistan), Rajasthan (Pakistan), Punjab (Pakistan), Jammu and Kashmir (China and Pakistan), Himachal Pradesh (China), Bihar (Nepal), Uttaranchal (China and Nepal), Uttar Pradesh (Nepal), West Bengal (Bhutan and Bangladesh), Sikkim (China, Bhutan and Nepal), Arunachal Pradesh (Bhutan, China and Myanmar), Nagaland (Myanmar), Manipur (Myanmar), Mizoram (Bangladesh and Myanmar), Meghalaya (Bangladesh), Tripura (Bangladesh), and Assam (Bhutan, Bangladesh and Myanmar).
The states of Haryana, Madhya Pradesh, Chhattisgarh and Jharkhand are the only land – locked states. They are not on an international border either.
---
INDIA'S NEIGHBOURS
The India is bounded in three directions by
The Arabian Sea on the West
The Indian Ocean on the South
The Bay of Bengal on the East
India shares its land frontiers with many countries such as :
* Pakistan
* Afghanistan
* China
* Nepal
* Bhutan
* Myanmar
* Bangladesh.
The nearest neighbour of India across the sea is Sri Lanka.
The Sri Lanka and India are separated by the narrow Palk Strait.
Maldives Island is another neighbour situated to the south of Lakshadweep islands.
Myanmar is India's immediate neighbour across the Purvanchal Hills and the Bay of Bengal. Other neighbours on these frontiers include Malaysia, Indonesia, Thailand, Laos and Vietnam. To the west are Pakistan, Afghanistan, Iran, Iraq and the Arabian countries.
Egypt, Sudan, Ethiopia, Somalia, Kenya and Tanzania are our neighbours across the ocean.
Five countries of Asia – China, Tajikistan, Afghanistan, Pakistan and India - meet at the apex of the North Indian Triangle.
At the easternmost point of the Indian border is the north eastern tri–junction, where India, China and Myanmar meet.
---
MIND IT !
All the students are advised to hang India Map beside study table. This should be given utmost importance. This is helpful for map pointing. Whenever you read about a Nation or a state look at map and it leaves a mental imprint in the brain. Hence whenever you come across that country or state or city while reading any subject it becomes very comfortable for learning.
Here are the most frequently asked Indian Geography questions in General knowledge section of exams. These questions will be useful for your practice for IBPS, SSC, UPSC exams, state PSC exams, entrance exams, bank exams, NEET exam (National Eligibility and Entrance Test) or any other competitive exams.